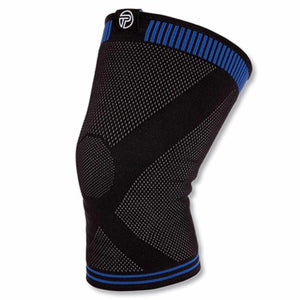 The 3D Flat Knee Support is designed to alleviate symptoms of:
General Knee Pain (including minor soft tissue tears/strains/patellar pain or tracking issues)
Tendinitis
Arthritis
Design Theory
Made from Flat Stitching Technology. This allows customized stitching to achieve 3D shaping of the fabric for a optimum fit.
3D Fit contours to knee area to provide compression and support.
Breathable, multi-directional stretch allows full range of motion while maintaining high level of support.
20-30 mm Hg, medical grade compression
Sizing Chart
Measure circumference just above patella (knee cap).
Small: 13" - 14.5"
Medium: 14.5" - 16"
Large: 16" - 18"
X-Large: 18" - 20"